【文章摘要】The planning of public health facility is one of the important contents of national land planning, which needs to balance geospatial equity and service capacity. Yet, assessment models and data acquisition methods based on a geosystemic analysis perspective have been lacking for a long time. By focusing on urban public toilets and taking the highly urbanized city of Shenyang, China as the study area, this study developed a new data strategy for urban public facilities with points of interests (POI) big data as the main data source, and subsequently corrected the POI data and analyzed the errors through a field survey, and conducted an empirical assessment oriented toward spatial equity and service capacity to discover the development dynamics of urban facilities over the past ten years and the impacting factors. We found that the integrated population and spatial elements could more accurately evaluated the service capacity of public toilets. Meanwhile, POI data is valuable in the research of public health facilities, but there are some errors in data quality and data access. The study explores the geographic analysis methods of field research data (small data) and POI data (big data) with empirical contributions.
【文章信息】Fu, B., Xiao, X., Li, J.Z.*, Big-data Driven Measurement of the Service Capacity of Public Toilet Facilities in China[J]. Applied Sciences 2022. https://doi.org/10.3390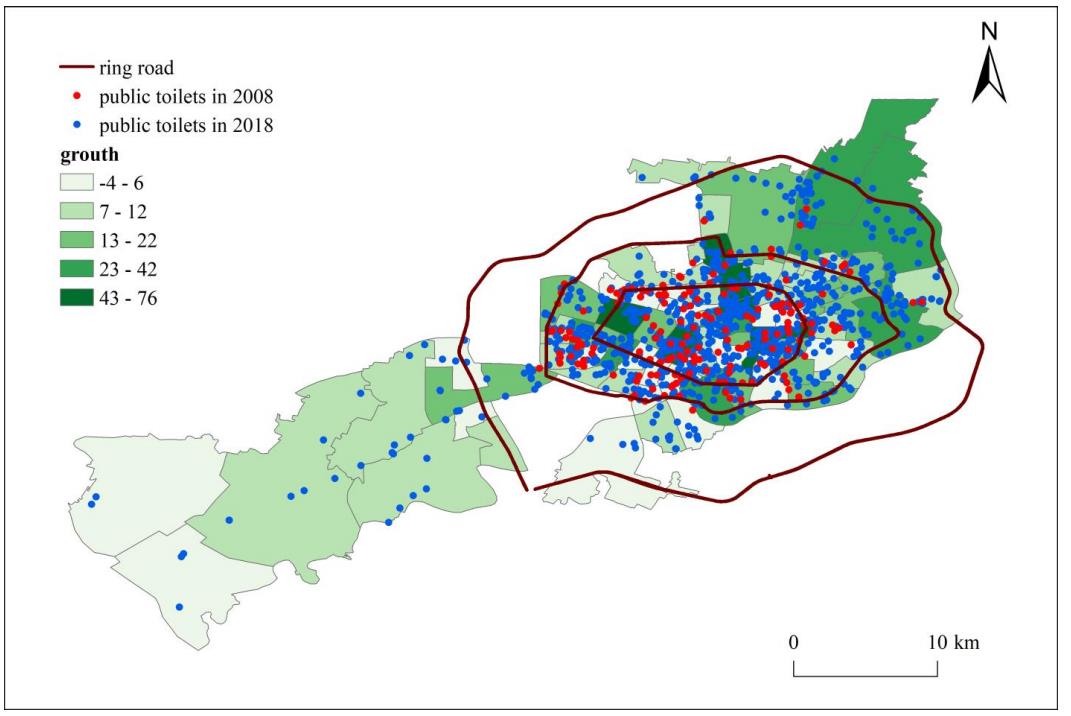 Figure. Distribution of public toilets POI increase in Shenyang.