【论文摘要】PM2.5 is unanimously considered to be an important indicator of air quality. Sustained rainfall is a kind of typical but complex rainfall process in southern China with an uncertain duration and intervals. During sustained rainfall, the variation of PM2.5 concentrations in hour-level time series is diverse and complex. However, existing analytical methods mainly examine overall removals at the annual/monthly time scale, missing a quantitative analysis mode that applies micro-scale time data to describe the removal phenomenon. In order to further achieve air quality prediction and prevention in the short term, it is necessary to analyze its micro-temporal removal effect for atmospheric environment quality forecasting. This paper proposed a quantitative modeling and prediction method for sustained rainfall-PM2.5 removal modes on a micro-temporal scale. Firstly, a set of quantitative modes for sustained rainfall-PM2.5 removal mode in a micro-temporal scale were constructed. Then, a mode-constrained prediction of the sustained rainfall-PM2.5 removal effect using the factorization machines (FM) was proposed to predict the future sustained rainfall removal effect. Moreover, the historical observation data of Nanjing city at an hourly scale from 2016 to January 2020 were used for mode modeling. Meanwhile, the whole 2020 year observation data were used for the sustained rainfall-PM2.5 removal phenomenon prediction. The experiment shows the reasonableness and effectiveness of the proposed method.
【论文信息】Wu, T.; Xie, X.; Xue, B.; Liu, T. A Quantitative Modeling and Prediction Method for Sustained Rainfall-PM2.5 Removal Modes on a Micro-Temporal Scale. Sustainability 2021, 13, 11022. https://doi.org/10.3390/su131911022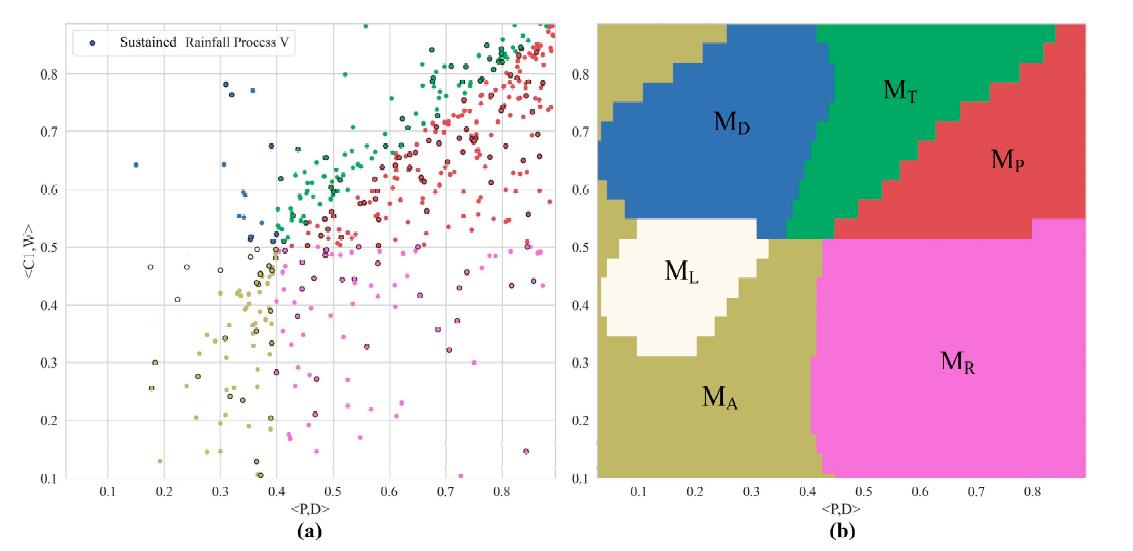 Figure. FM classifier result graph for removal modes, (a) Scatter plot of modes classification results; (b) Interpolated rendering of modes classification results.